SmokinStangs.com
is proud to present the official dates for the 2nd Annual SmokinStangs Laconia - 2012 Northeast Mustang Rally!!
This 3-day event will take place on September 7-9, 2012!
So be sure to...."Save the Date!!"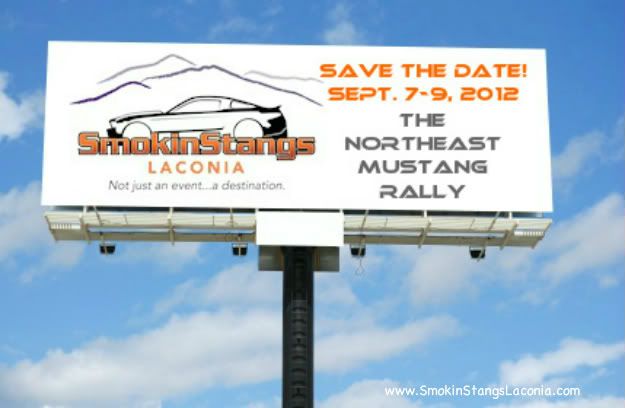 With the passing 1st Annual "Inaugural" 2011 - SmokinStangs Laconia - Mustang Rally now in our rear-view mirror, we are extremely excited & very much looking forward to this about 2nd Annual event!!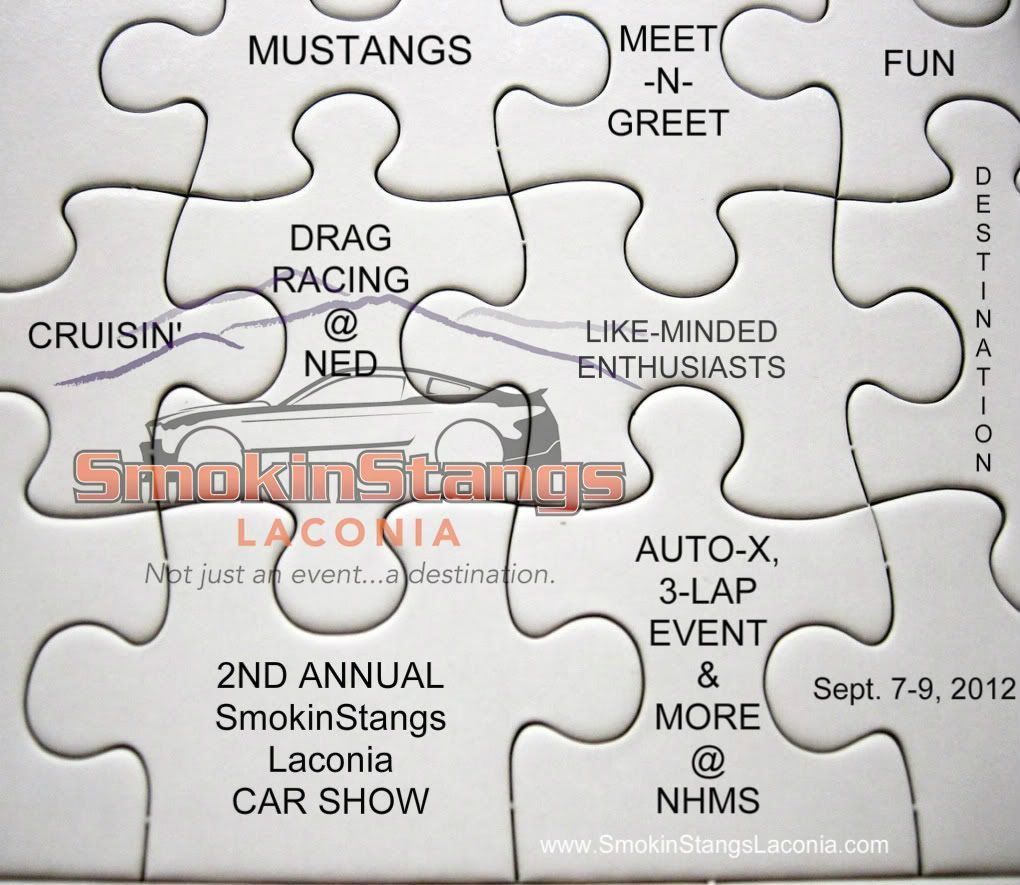 Participation of last years event pleasantly exceeded our expectations! We wish to thank, and applaud all who attended the prior "Inaugural" SmokinStangs Laconia event. It was great to read & learn of all the positive feedback received, as well as all the numerous forum / forums chat that was generated as a result. A quick "Google" search via the keyword SmokinStangs Laconia should serve as evidence of the same!!
This year for 2012, we are expecting to double the number of attendees...
Check out this years Teaser PROMO Video on YouTube, featuring actual content from last years 2011 SmokinStangs Laconia - Mustang Rally!
And of course, since the SmokinStangs - Mustang Forum is also the "Home of the SmokinStangs - Mustang Rally" ...much can be found right here on the site, to include pictures & videos:
http://www.smokinstangs.com/forumdisplay.php/145-SmokinStangs-Laconia-2011
__________________________________________________ __________________________________________________ __________________________________________________ _________
In addition to the announcement here of the official 2012 event dates, we would also like to take this opportunity to share an additional element that we have incorporated for 2012...one that we feel will be very well received. This will be an addition to an already fun-filled list of activities, such as an Official Car Show, Auto-X, and a fan favorite...the SMOKIN 3-Laps activity. We have made arrangements with a local dragstrip (our friends at NED - New England Dragway), and SmokinStangs Laconia has been officially added to the tracks schedule for Friday 09/07/12. We feel that this 2nd Annual event will offer something for everyone, making it possible for any & all Mustang Enthusiasts to be a part of the action.
More details to come to include a full schedule of events, times, etc...
.
So now is the time to mark your calendars & start your planning...as you don't want to miss this Northeastern based Mustang Rally!!
Three full days of Celebration, Activities, Relaxation, Good Times, and Mustang Bliss!!
Again.....and we can't stress this enough! We "Thank you" for your support and encouragement in advance, and ask that you help us spread the word!!